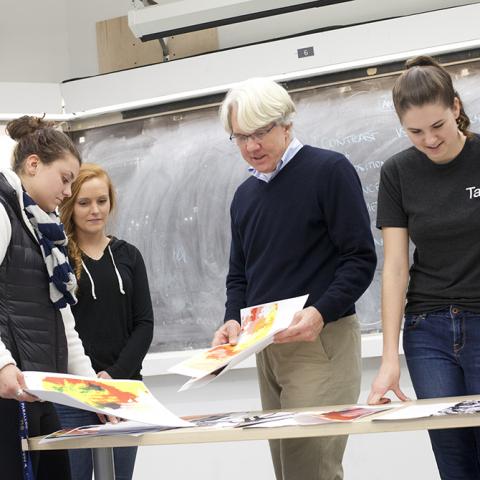 Title
Chairperson, Communication Design Department
Bio
Joseph A. Quackenbush is a Professor of Graphic Design at the Massachusetts College of Art and Design in Boston, MA, where he teaches courses in typography, interaction design, information architecture, design research, and professional practice. He became chairperson of the Graphic Design department in July 2016.
He is also the former coordinator of the Dynamic Media Institute, MassArt's graduate MFA program in interaction and communication design, where he teaches seminars on thesis research, the history of dynamic media, and oversees the one-year writing program for MFA candidates.
Before joining MassArt in 2005, he was an adjunct professor at The Rhode Island School of Design for nine years where he taught both undergraduate and graduate courses.
He developed the design curriculum and is lead design faculty for the Creative Continuum: Business and the Creative Process program, a joint venture between MassArt and Bentley University. Founded in 2007, the Creative Continuum is a 3-week professional business/design thinking program for artists and designers. Students explore the core principles of business administration such as finance, strategy, marketing, organizational behavior, product development, and operations while working on a real-world field case study for a client. Clients have included: Blue Cross Blue Shield, Constant Contact, Dunkin' Donuts, Fidelity Investments, Harvard Bookstore, Hill Holiday, N-Star, Reebok, and Staples.
Since 1997, he has been the president of Jam Design, an interactive and print studio based outside Boston. Clients include Akamai Technologies, Arthur Andersen, Big Picture Company, Boston Athenaeum, Bryant University, Rhode Island Small Business Development Center, Sarnoff Corporation, Stainless Steel Studios, The Center for Design and Business, The Massachusetts Institute of Technology, The New York Times, Primary Source, The Rhode Island School of Design, Second Nature, The University of Pennsylvania Graduate School of Education, and Xylem Inc.
Joseph holds an MFA in graphic design from the Rhode Island School of Design (Providence, RI) and a BA in English from Oakland University (Rochester, MI).
Clients
Akamai Technologies
Arthur Andersen Consulting
Big Picture Company
Bryant University
Clark University
Second Nature
Silent Spring Institute
Primary Source
MassArt
MIT
New York Times
Reebok
Rhode Island School of Design
Education
BA, English — Oakland University, Rochester, MI
MFA, Graphic Design — Rhode Island School of Design, Providence, RI
Learn more about Joseph Quackenbush