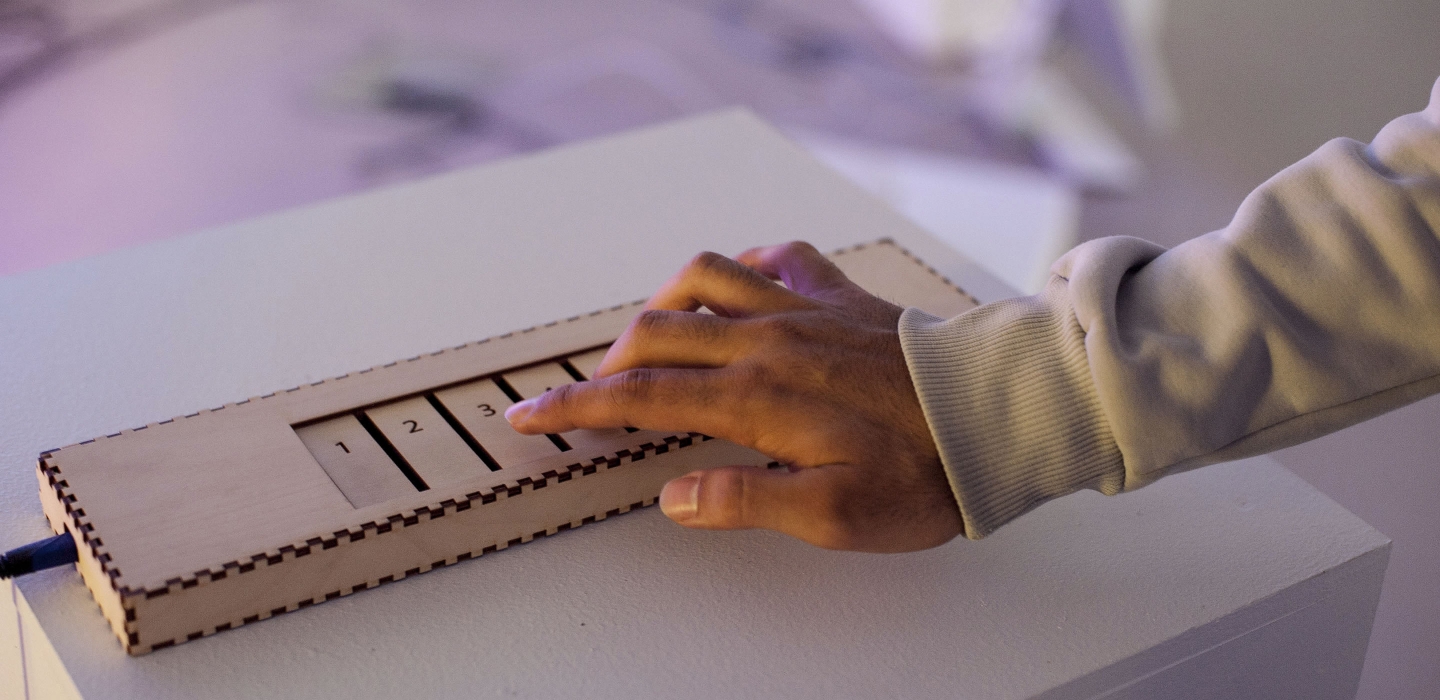 The Dynamic Media Institute offers a one-year Post-baccalaureate Program in Communication Design with a focus on dynamic media. The program gives professionals from outside the design field an intensive educational experience that will prepare them for new opportunities, including possible application to graduate schools or continuation in the Dynamic Media Institute. 
Curriculum
The post-baccalaureate is a one-year, 24-credit, immersive educational program. After successful completion, students will graduate with the "Dynamic Media Institute Post-baccalaureate Program Certificate." Those who choose to apply and are accepted to continue graduate study at the Dynamic Media Institute will be allowed to transfer up to 6 credits.
The post-baccalaureate program is designed specifically to prepare students for the DMI MFA program and is not recommended for those who are primarily interested in traditional print design.
Courses
Faculty will work individually with post-baccalaureate students to select courses that are most appropriate for their unique educational background and work experience. Among the courses offered:
Fall Semester (12 credits)
Elements of Media (graduate, 3cr.)
Design as Experience (graduate, 3cr.)
Design History (undergraduate, 3cr.)
Information Architecture I (undergraduate, 3cr.)
Typography I (undergraduate, 3cr.)
Graphic Design I (undergraduate, 3cr.)
Sophomore Studio (undergraduate, 6cr.)
Typography / Graphic Design (selected PCE courses, 3cr. each
Spring Semester (12 credits)
Design for Motion and Sound (graduate, 3cr.)
Information Architecture II (undergraduate, 3cr.)
Typography II (undergraduate, 6cr.)
Degree Project (undergraduate, 3cr.)
Faculty
Post-baccalaureate courses are taught by professors from DMI and MassArt undergraduate communication design program, as well as by visiting artists, designers and special guests.
Who Should Apply
Candidates for the DMI Post-baccalaureate Program in Communication Design will have widely varying educational backgrounds and work experience. We believe that diversity enriches our program and, in turn, the dynamic media field as a whole. DMI counts graphic designers, programmers, industrial designers, architects, journalists, social scientists, biologists, dancers, and writers among its graduates.
Application Requirements
Applicants to the program are expected to have an undergraduate degree and at least two years of professional experience related to design practice. All applicants are required to submit the following: 
Portfolio. There's no magic formula for a portfolio. Your portfolio should accurately reflect you — your work, your experience, and your interests. We welcome a balanced mix of professional, personal, and experimental projects in just about any form from interface to sound to video to installation.

 

Personal Statement. Why DMI? What about dynamic media most interests you? What do you hope to accomplish in graduate school? Where do you see yourself in ten years? Your personal statement should answer these questions among others.

 

Letters of Recommendation. Letters of recommendation reveal how others view you and your work. Consider letters from professors, managers, clients, and colleagues.

 

Transcripts. Include transcripts from all undergraduate and previous graduate institutions.

 

English Proficiency. Graduate study demands competency in English writing, reading and conversation at an advanced level. Applicants whose first language is not English must present TOEFL scores of 223 (computer test); 563 (paper test); or 85 total with minimum scores of 21 reading, 19 listening, 23 speaking, and 22 writing (internet-based test). For applicants taking the IELTS test, a score of 6.5 is required.
Application to all MassArt's graduate programs is online, including portfolio submissions.
Graduate Tuition, Fees, and Financial Aid
For the latest information on graduate tuition, financial aid, assistantships, and living expenses please visit the MassArt web site by clicking here.
For More Information
For more information about applying to DMI, tuition, fees, or to schedule a visit, please contact Lauren O'Neil, Assistant Director of Graduate Admissions at loneill@massart.edu or at (617) 879-7203.